see what others have to say
You're in good company
❝
Daniel is a very skilled carpenter with attention to detail. The efficiency and expertise of himself and his worker are unparalleled. For our project they were able to bring the framing of our 2 story 415 sq ft deck up to code, expand, resurface, and add vinyl railings with square aluminum balusters in 4 days! Daniel was easy to work with and negotiate a fair price. We look forward to using him for future projects and recommend without hesitation.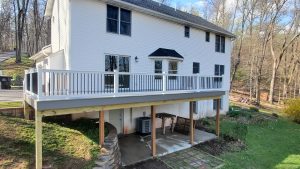 Joshua Irons
First, let me just say how extremely professional Daniel is. Daniel was referred to us when our house was hit this past summer by a tornado, which wiped out the shed and the front patio posts. The contractor who was fixing the shed referred us to Daniel for the posts. After receiving a phone call, we received an email with pictures of posts to replace the old ones. (Please remember this is all during Covid-19 when we're social distancing) After several emails, phone calls, and texting the posts were put in. Daniel and his workers were professional, on time, and there was not one piece of trash to pick up. Which lead us to decide to talk with Daniel about a new front door and installing the new posts for the back patio. This is also a side note: We live about 1 1/2 hours from where he lives and he was here at our house ready to start when he said he was going to start. Daniel also kept us up to date as to what was happening with the door we ordered. We would definitely work and refer Maple Crest Construction again!
Jim & Linda Boone
Daniel and his crew replaced a grouping of 7 individual windows on our living room wall and a smaller window along the side of our home. The living room windows were what made me buy the house 24 years ago, so they are a pretty important part of our home. They had to replace all of the exterior and interior trim as well as the windows themselves. The interior trim in particular, was pretty complex, and they took great care to match the style and fit. His replacement looks better than the original both in and out! Daniel and his crew are very professional. They left my home clean and neat. They were a pleasure to work with and to have in my home
Maria Vinall
Maple Crest Construction is not your average Construction Company/Contractor. Daniel Esh and team are highly professional and competent. They will build you your dreams and then some. I had an opportunity to work with Daniel on a 12×23 deck at our new home in Kennett Square. He went above and beyond with the design and the execution was impeccable. If you are looking for a top quality, highly professional team, look no further. Daniel and team are the best in the business. We will be using Maple Crest again for other projects.
Dan Burkart
Daniel and his team were professional and courteous. He was very responsive to my questions and requests, and even managed to accommodate some last minute changes to the initial project. They arrived early each morning, and worked hard all day. I am extremely pleased with my new deck and pergola. They were a pleasure to work with, and I would definitely use them again in the future. I highly recommend them!
Erin Harrison
Maple Crest did a great job repairing our siding. They were flexible with their schedule as we waited on the right brand and color from the manufacture. They were timely professional and did great work. 10/10 would recommend and use again.
Richard Russo
Could not recommend Daniel and the team at Maple Crest Construction any more. Their service was amazing. Daniel is the most responsive contractor I've ever had the pleasure of working with. Not only did he deliver two months ahead of the schedule he previously communicated, he managed to save us quite a bit of money by having our supplies ordered ahead of time. The price was very competitive with other quotes we received and I appreciated the detailed list of work to be done. The old deck came down and the new deck went up in what I consider record time and it looks incredible. I personally witnessed Daniel checking every bit of work and having anything he wasn't satisfied with backed up and redone. The crew were polite and pleasant, and the work was done so well. Before they left they washed any mud and dirt off the deck, reseeded the dead grass, and cleared away every scrap of trash.
Isabel Buckner
Replacement of our deck with composite decking. Excellent work with Dan's crew. He was very responsive from initial quotation to the end of the project; the project site was cleaned up and the pricing was very good. I would definitely use Maple Crest again.
Peter Hunt
It is next to impossible to find a competent construction company. I feel so blessed to have found Maple Crest. They have done several big jobs at my house and I am so impressed with Daniel's work. His work is excellent and if you want something done well, call Daniel at Maple Crest.
Jan Reeps
We had a great experience with Daniel and his crew and would highly recommend them. Daniel communicated the process, was on time, and did a great job on our deck. It looks great!
Bryan Butakis
I was Contacted for the estimate of what damage I had and what was potentially unseen until the work would be started. I could Have been ripped off by anyone and not known but I was told there was no damage under the surface. He was very honest and did a great job.
Tim O'Neil
Daniel A and his workers were very, very efficient with their work and craftsmanship. Our deck looks great and I have been showing pictures to family and friends and they all love how it came out. They showed up on time everyday, even in the middle of a heat wave with temperatures over 100 degrees and worked all day until 5. Daniel A gave me quality advice as my frame was rotten and had to be redone. His price was the best by far out of 22 quotes I received. Daniel A is very professional and his quality of work is unmatched. If you are looking for a new deck, siding, or any outside projects that need to be done, I highly recommend using Maple Crest Construction.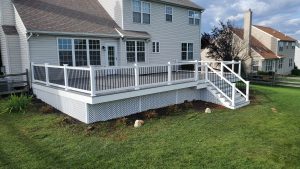 Daniel Spaziani
Would recommend this Company to any of my family members. Great work and care of property. Promised and delivered.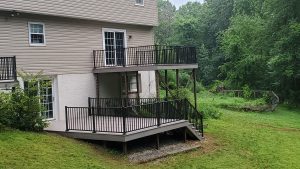 John Fitzpatrick
I love my new front porch! Daniel, Jake and the crew did a great job. It shows their fine workmanship and attention to detail and was finished on time. I wouldn't hesitate to recommend Maple Crest Construction to others.
Maryann Storz
I am 100 percent satisfied with the deck and back steps that Maple Crest Construction built. The owner, Daniel, is very professional and really cares about the customer. He does quality work in a timely manner. My husband and I would definitely use Maple Crest Construction again in the future. Nowadays, it is hard to find a company that really cares about doing an excellent job, but Daniel proved us wrong.
Jane Gasper
Daniel and his company were super helpful with everything. They showed us models to see what to expect, they helped us with paperwork, and even better they finished our deck in four days. The workers were super friendly and efficient. They started early in the morning and went on to the afternoon and made tremendous progress. I would highly recommend Maple Crest Construction to anyone looking to get a deck.
Henry Sedano
Daniel provided quality work at a reasonable price for my deck repair. He is courteous and skilled at his work. He answered all of my questions and concerns, and was an absolute pleasure to work with. Would hire him again, and highly recommend.
Lisa Phillips
We received excellent service and the craftsmanship was above what we expected. Daniel is a very personable person, who stands by his work. They cleaned up afterward and had no mysterious add ons in their prices. I would definitely recommend them to others.
Jim Boone
Daniel was very friendly and took the time to answer my questions. His workmanship on my Job was GOOD. I am pleased with the project he did for me.
Larry Bink
Our project wasn't the biggest but it was important to us and Maple Crest made it a big deal. We are very pleased with the outcome of the new porch and love the way it looks from the street.
Richard Reynolds
Working with Maple crest was a pleasure from start to finish. They were a professional, hardworking honest team. Daniel was organized, responsive and knowledgeable. The deck is beautiful. We have already recommended them to others. We will call them again for future work.
Deborah Turner
We contacted Maple Crest Construction to give us an estimate for under decking for our lower outdoor patio area. Daniel's responsiveness, reasonable pricing, and quality of products he used made us decide to have them complete our project. They started the project at the time they defined and committed to, were very polite and professional and the craftsmanship was impeccable. We were very pleased with the quality and workmanship and would highly recommend their services. Thank you for making our outdoor space beautiful!
Joanne Mathias
Daniel was the right man for our deck construction. He answered all our questions thoroughly and was very responsive. He finished the project efficiently and the pricing was very reasonable. I would highly recommend him.
Kirtan Patel
Had Maple Crest Construction replace our old deck with some new composite (fiberon) decking. Junior was great throughout the project, always responsive to my questions and the progress of the job. We now have a beautiful and usable deck to spend time on, would highly recommend. I will take and add some pics of the completed work.
Keith S
Maple Crest does large projects as well. He added a second floor over our garage and built my dream artist studio complete with a big lam beam and skylights! The finish as amazing and the work ethic can not be better. We are so happy we are having them do the roof, siding and windows in the main house now. They are the absolute best.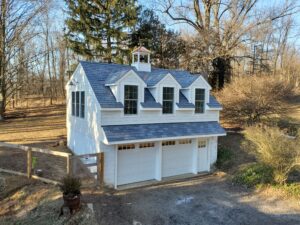 Caroline Hicks
Daniel replaced three 6×6 posts that were rotted and added a structural beam of two 2×12 that were fastened together and bolted into the notched posts. He also had to dig new concrete footers as the old posts were just placed into the ground. He was professional, courteous, knowledgeable,prompt,neat and detail oriented. He is a true craftsman. He was the best contractor that I have ever dealt with and I am very particular and expect nothing less than quality work. His pricing is very competitive and I would definitely hire him again for any other projects that need to get done. You can't go wrong with Maple Crest Construction. His work is better than 5 stars.
Louis Phillips
Junior from maple crest construction did a great job installing a standing seam roof on our cottage, installing a metal roof on our barn, and repairing our barn and shed. Junior is always up front and honest. He explains all options and the pros and cons associated with each option. Junior is punctual to the job site on a daily basis, and is able to give a very reasonable estimate about when the job will begin and end. During the day, junior and his assistant work quite hard, there is no time that is left unproductive. We are more than pleased with the job Maple Crest Construction did on our property and do not hesitate to give them our highest recommendation.
Jeff C.
Dan is a very good carpenter and a nice guy to work with… I will use him again thanks Dan
David Bowers
Maple crest put bigger kitchen window in… they did a great job.my wife loves it… they were clean , kind and friendly. Knowledge of the job .i will recommend maple crest to everyone.they exceeded out expectations
Michael and priscila ament
Daniel and his crew were incredibly professional, they worked with my wife and I throughout the process. Craftsmanship is excellent, and we will be using Maple Crest Construction on future projects.
Andrew McDevitt
Excellent service! Great price, professional, prompt and excellent craftmanship! I Would recommend this company to anyone!
Clare Small-McEvoy
Maple Crest (Daniel) was great from start to finish with our deck construction. He was always quick to respond and helpful with any questions that we had. They worked very diligently and finished the project much faster than we had anticipated. Daniel and Alberto were extremely clean and left our property in great condition when leaving the job each day. It is very clear that they operate by the book and do not take any shortcuts in their craft. The finished product looks fantastic. I highly recommend their services.
Albert Geniviva
Great work! Responsive, knowledgable, and prices were very reasonable.
David Mathews
Perfection is really the only way to describe Daniel and his crew. This was hands down the smoothest addition/construction project we have done at our house. Daniel is super professional, efficient and just great. They basically had our deck done in 5 days minus some caping etc. I would have them back to do anything at my house in a heartbeat!
Bethanne McFadden